We ran out! White Heavy-Duty Mosquito Netting will be available again in 2021. Black Netting is still available here. 

FAQ:
Is black netting or white netting better?
We generally recommend black netting for two reasons:
1. Black netting is easier to see through because it reduces sun glare 
2. Black netting does not get stained. White netting can be stained by mud or bird droppings. 

Who We Are
Mosquito Nets USA is focused on one goal: providing high-quality Made-in-USA mosquito netting at affordable prices to DIY customers.

My company was started in 2012 after searching online for mosquito netting for my parents' patio. Local hardware and home improvement stores did not have netting large enough for a patio and an online company quoted me $1,200 for ready-to-hang patio curtains.
$1,200 was more than my parents' mortgage payment, and being a sophomore in college with $1,000 to my name, I set about finding a way to bring affordable, durable Made-in-USA mosquito netting to middle-class consumers like my parents.

In May 2012, I dropped out of college and started Mosquito Nets USA and my team and I have been working hard ever since!
Through great prices, excellent customer service, and pre-order and post-order customer support, we have brought happiness to over 9,000 customers worldwide and we are excited to show YOU why our products and service are rated 5 STARS
About This Netting
If you are thinking about screening in your porch, patio, gazebo, or pergola or are thinking about making your own DIY mosquito curtains, then THIS is the netting for you!
Designed, milled, dyed and cut right here in the United States, our Heavy-Duty Mosquito Netting is superior to every type of mosquito netting found online or in stores. The netting is made of 100% marine-grade polyester and is solution-dyed in fade-resistant black dye with no harmful chemicals.
When you order a panel, you can use it however you like! The netting is completely customizable and is made using a unique lock-stitch weaving technology that actually locks every cross stitch with the previous stitch. What does that mean? It means that you can trim any edge of the netting and leave it as is without worrying about it fraying or tearing apart from the raw edge. The netting panels also have no finished edges or seams so you can use any side as the top, bottom, or side.

The netting has 230 holes per sq inch (about the same as your window screens) and allows for 85% airflow because you want your netting to block bugs and debris, not the breeze! Milled at a weight of 450 denier, you also will not be able to tear this netting apart with your bare hands. Trust us, you can give this netting to the strongest person you know and then enjoy watching them struggle to tear it apart.

With over 9,000 happy customers, some of whom have been using the same heavy-duty netting since we first sold it to them in 2012 (SIX YEARS!), you know you can put your trust and peace of mind in this netting for your project. We are so confident in our netting that if you order it and don't love it, we will pay for your return shipping and offer a 100% money back refund!
If you have ANY questions about this netting, be sure to contact our team and we will be so happy to help you find the right solution for your project.
We also have free samples available in the form below and we will mail your samples out within 24 hours!
Customer Reviews
07/13/2020
Juan B.
United States
Mosquito Free!
I installed the misquote netting three hours after arrival. We have a beautiful view from our balcony on the 2nd floor but cannot enjoy it because of the misquotes. However, now that I have installed it, my wife and I are able to enjoy the view and the weather! I installed with a staple gun because this is an apartment. I will need to remove it before our lease is up. Thank you Mosquito Net USA! Oh, thanks to you my wife made me purchase new patio furniture !!! We would like the $10 gift card to Lowe's please. Juan.benavides@hotmail.com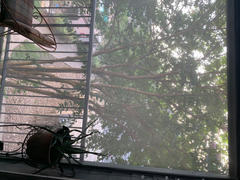 07/08/2020
Mrs L.
United States
07/08/2020
Susan T.
United States
Protects butterfly caterpillars!
I bought this to cover milkweed plants that butterfly caterpillars were feeding on. Wasps eat the baby caterpillars, so I cut it to cover the plant and allowed extra netting to hold down with soil/rocks. Protected the 'cats' wonderfully and they grew to beautiful butterflies. Probably not the usual use for this material but it worked so well. Very high quality material, USA made and super fast shipping! Highly recommend this company!
07/06/2020
Laura B.
United States
Great Netting, fast shipping!
Just as described and shipping was super fast! The netting looks beautiful and is super effective with keeping mosquitos and other bugs out. Got so many compliments on it so far and would totally recommend!
06/26/2020
Diane A.
United States
White Mosquito netting for Patio and Porch
Excellent. I'm creating a little screened bug free area outside my door. This is just what I was looking for.